President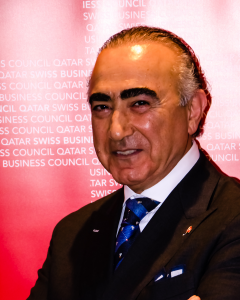 Fariborz Samadian "Sam" has been since the beginning and even before the opening of the Embassy. One of the main drivers for establishing a Swiss Business Council in Qatar. He is working in Qatar since 2010 and is the Chairman of Swiss Events Group.
Vice-President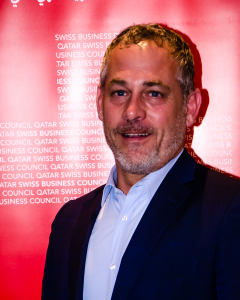 Sascha Lang with over 18 years' of experience in hotel design management and has worked with hospitality groups in North America, Europe, the Middle East, India, Africa and Asia-Pacific. Sascha has an extensive experience in hotel and mix-used development, concept development, interior design and technical services. A Swiss national, Sascha graduated as an architect and also holds a diploma in hotel management from the Belvoirpark Hotel Management School in Zurich.
Executive Member – Treasurer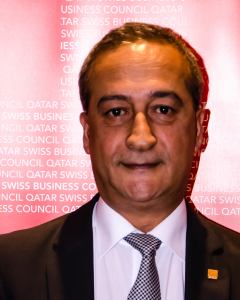 Bahman Dastvareh is the acting Managing Director of Endress + Hauser (Qatar) L.L.C. since starting of its operation in 2009. He has a professional master degree in management and due to his 27 years carrier at international level, a demonstrated knowledge in all management fields. He is specially skilled through further continues executives educations training by well-known business schools, LBS and IDM for finance, leadership & change management, and through study for master in corporate finance, performance management and control.
Executive Member – Deputy Treasurer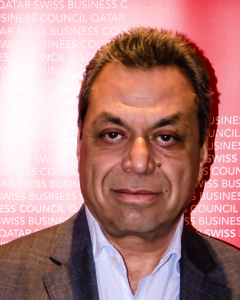 Antoine Berberi has been in Qatar since the beginning of 2016. He works as General Manager in Alfardan Jewellery where he has been focused on the expansion of the family-owned business. His professional background initiated in IT.  However, Antoine moved into FMCG, retail and watches & jewelry sales where he has spent most of his career working for large brand portfolios composed of the most prestigious and luxurious international enterprises including Swiss companies.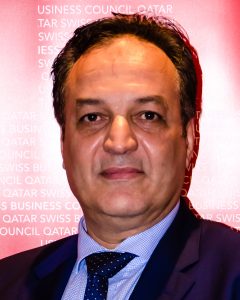 Executive Member – Business Development Officer
Mabrouk Benattia is a senior executive with many years experience in the field of strategic management. With over two decades of experience in providing strategic management oriented risk and resilience management in Europe, Africa, and the GCC, he will help to further develop and strengthen the local and international business network and shape the future of the SwissBCQ. Mabrouk has also a good understanding of international security matters covering a variety of interconnected issues.
Executive Member – Secretary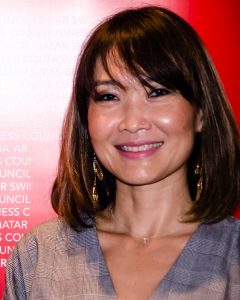 Nina Saxer is living in Doha since August 2016. Previously lived and worked in Calcutta, India as an Event Organizer for many prestigious fashion, lifestyle and art events. Graduated from the Administration School in Bali, Indonesia and later, after the birth of her 2 sons,  she continued her study at Chanapatana International Design Institute in Bangkok, Thailand as a fashion designer. She is very passionate about art, fashion and photography.
Honorary Auditor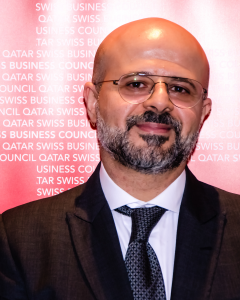 Fouad El Haddad is the Chairman and Managing Director. He is a qualified lawyer with more than seventeen years of experience practicing in Middle Eastern jurisdictions and in-depth knowledge of Qatari law and the Qatari regulatory landscape. He specializes in corporate and commercial law, including corporate restructuring, mergers and acquisitions, foreign investment, and commercial contracts, as well as in banking and finance and employment law.
Ex-officio / Swiss Business Hub Middle East-Qatar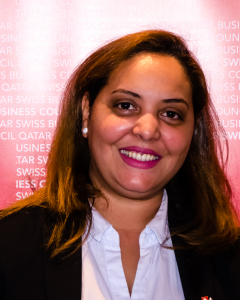 Sarra Messaoudi has been in Qatar since 2008. She works currently as Commercial Attaché and trade officer for Swiss Business Hub Middle East-Qatar with their partner Switzerland Global Enterprise. She provides support to Swiss SMEs who are interested in exporting, investing into Qatar and links companies and institutions between both countries.